Company Overview:
Vtex (NYSE:VTEX) is an ecommerce platform company. Its cloud-based ecommerce platform allows retailers to build, operate, and connect their multichannel storefronts, which includes websites, mobile devices, marketplaces, and brick-and-mortar stores. The platform also, through a set of inhouse and third-party solutions, integrates the complex network of retailers' backend functions to address any potential needs in today's ecommerce
Vtex was founded in 2000 by Geraldo Thomaz and Mariano Gomide. It was originally founded as a software solution for the textile industry. But the demand for software solutions from the textile industry never took off. As a result, the company has since repositioned with a mission to help global enterprises digitalize their commerce platforms.
In 2007, Vtex was awarded with a tender to build the ecommerce platform for Walmart Brazil. During the project, Vtex's team handled all aspects of technological problems. These problems include server, privacy, security, and deployment. Vtex's team quickly realized that it would be increasingly more difficult for enterprises to handle technology internally in today's ever-evolving digital landscape. Technology has become more sophisticated; managements will have a harder time juggling between the complexities and overburdening overhead brought by technological challenges while focusing on their core business offerings. Vtex believes there's a market demand for global ecommerce solutions.
Vtex's vision was to create a cloud-based ecommerce platform that addresses the needs of today's ecommerce. The cloud-based platform will be powered by two compelling concepts: composable and collaborative commerce.
The cloud-based offering allows Vtex's platform to withstand the test of time and remain competitive as Vtex continue to push updates to all its customers to address potential needs of today's ever-evolving digital landscape. This would be otherwise impossible with legacy software solution vendors, whose offering are defined by on-premise installations.
The concept of composable commerce allows Vtex's customers to build tailored-made digital stores on Vtex's homogenous platform by configuring composable building blocks of commerce capability. Vtex's customers can install third-party applications such as the payment gateway by PayPal similar to installing an application on a smartphone.
Vtex's platform is built in low-code, API-first environment. Vtex's customers can develop their own proprietary software to address their nuanced needs. Through the concept of collaborative commerce, Vtex's customers can share and purchase each other's proprietary software to further digital collaboration.
Vtex is recognized for its revolutionary concepts within the ecommerce industry. Vtex was recently awarded as "Visionary" in the Gartner Magic Quadrant for Digital Commerce report, outperforming its larger-sized competitors such as Shopify (NYSE:SHOP) and BigCommerce (BGIC). Vtex was also awarded with seven medals overall for Ability to Execute and sales & Channel Enablement by Andy Hoar, who is a former Forrester analyst and B2B Commerce luminary.
Vtex went public last year during July 2021 through a traditional IPO. Vtex offered total of 21.9 million class A common shares (16.7 million shares offered by Vtex; 2.85 million shares offered by underwriter's option to exercise; and 5.1 million shares by Vtex's selling shareholders) at a public offering price of $19 per share.
Vtex has received strong institutional support coupled with investments from prominent investors; tiger cubs Lone Pine and Tiger Global have both invested in Vtex. And a total of 7 Wall Street analysts have assigned an average target price of $31.90, which represents to a 411% potential upside from its last close at $7.58.
We Have Identified Three Investment Points for Vtex:
We believe Vtex is well-positioned for the upcoming industry tailwind for ecommerce.
Vtex has an enterprise-client focus and has, historically, demonstrated strong success.
Vtex's recent trading performance at $7.58 suggests an "implied" perpetual growth rate of less than 5%. It's unreasonable given Vtex's historical robust topline growth.
Catalyst to Realize the Above Investments Points:
Vtex is likely to generate above-consensus topline growth for the upcoming Q4 earning due to below four reasons:
Vtex was traded lower partially due to its plateau topline growth in Q3 2021; it only generated 3% quarter-over-quarter growth. But historically, Vtex's revenue has always been impacted by seasonality. Q3 summer holidays season has always been challenging to Vtex's ecommerce business. Q4 holiday season (black Friday and Christmas) is where Vtex will likely see robust topline.
Management announced that Vtex had a record-high (doubled its previous backlog) volume of client in implementation during the Q3 earnings call. We think these revenues will be recognized in this coming Q4 quarter results.
Vtex recently onboarded multiple, blue-chip enterprises such as Mazda, Dior, and Levi's, which are poised to bring significant gross merchandise value ("GMV") to its platform.
Vtex established strategic partnership with various marketplaces. It has confirmed a certified integration with Mercado Libre
Industry Tailwinds for Vtex
The five-industry tailwinds we've identified for Vtex are:
The Continued Adoption to Ecommerce by Consumers
Most Ecommerce Newcomers Lack Omnichannel Capability
Market Demand for Synchronized Solution to Untangle Supply Chain Network
Legacy Software Solutions Will Be Out of Market Soon
Enormous Ecommerce Market Runway for Latin America
The Continue Adoption to Ecommerce by Consumers. Covid accelerated the previous five percent per year ecommerce penetration by ten years within the first three months of lockdowns. Consumers were introduced to the conveniency and immediacy of ecommerce, and their preferences have changed forever as a result. Ecommerce adoption is not limited by consumer demographics nor by product type; there's increasing consumer adoption to items that were rarely purchased online prior to pandemic such as groceries. We believe the adoption to ecommerce by consumers will continue, and brick-and-mortar will ultimately become one of the many channels for product discovery and distribution. Global ecommerce GMV is forecasted to continue grow at CAGR of 16.6% from 2022 to 2025. Vtex will benefit from the continued adoption to ecommerce as more retailers look to digitalize their commercial platforms.
Most Ecommerce Newcomers Lack Omnichannel Capability. How consumers discover products have evolved due to digital transformation. Consumers today may discover products through social medias, marketplaces, or through visits of a nearby brick-and-mortar store. It is important that retailers adopt to today's breadth of product discovery and distribution channels. And having an omnichannel platform to curate an immersive, unified user experience across different outlets is said to increase consumer loyalty and drive sales. Most ecommerce newcomers today, however, lack the infrastructure and resources to construct an omnichannel platform to improve user experience. But Vtex's solution can address this problem and connect the multichannel of ecommerce for its customers.
Market Demand for Synchronized Solution to Untangle Supply Chain Network. 61% consumers said same-day delivery increases brand loyalty and 55% consumers said they will switch to a competing retailer if it offers faster delivery. Consumers are drawn to ecommerce because of the conveniency and immediacy offered, and the market has a growing expectation for reduced fulfillment and delivery times. The technical requirement for supply chain management, however, is complex and requires synchronization of multiple layers of backend functions. Vtex's platform integrates the complex layers of backend functions for its customers, and it also engineers a potential path for retailers that have historically worked in silos to collaborate, and ensure frictionless fulfillment and delivery.
Legacy Software Solutions Will Be Out of Market Soon. We think that many legacy software solution businesses will be out of market soon as they fail to address the demand of today's ever-evolving digital landscape. Legacy software solutions are defined by their on-premise installation software coupled with lengthy development cycles. Today, retailers are looking to digitalize their commercial platform with speed-to-market. Additionally, on-premise installation software means static features and functionality. These static functions are easily outdated considering their clients' vulnerability and exposure to security and privacy threats.
Enormous Ecommerce Market Runway for LatAm. Latin America is one of the fastest growing regions in the world with GDP growth rate forecasted at 4% CAGR to $4 trillion by 2024. Ecommerce in Latin America grew by 37% in 2020 compared to 2019, which makes it one of the fastest growing ecommerce regions.
However, Latin America ecommerce sales only represents to 6.2% of total retail market sales, which implies the region lags behind the world in ecommerce penetration by six years. This lag represents an enormous growth runway for Vtex as more sales are expected to shift to online platforms. It is estimated that Latin America ecommerce will grow into a $130 billion market by 2024 at a CAGR of 11%. Vtex has been a market leader in digitalizing commercial platforms in Latin America for the past twenty years.
So, What Exactly Does VTEX's Platform Do?
Vtex's platform allows retailers to build, operate, and connect their multichannel storefronts, which includes websites, mobile devices, marketplaces, and brick-and-mortar stores. The platform also, through a set of inhouse and third-party solutions, integrates the complex network of customer's backend functions to address any potential needs in today's ecommerce.
Build, Operate and Connect Multichannel Storefronts:
As mentioned, there's an overwhelming breadth of product discovery and distribution channels today enabled by technology. Historically, retailers operate brick-and-mortar where traffic is to drive sales. Today, traffic is everywhere. Consumers can discover and buy products from social medias, websites, mobile devices, or even through visits of nearby brick-and-mortars. Social media TikTok reported eight-times GMV growth at closed to $90 billion in 2020, while marketplaces such as Taobao and Amazon facilitated an aggregate of $2.6 trillion GMV. Every channel that retailers don't operate in represents an enormous market opportunity missed. Vtex's platform allows retailers to build and operate stores across all available channels in today's commerce.
Furthermore, Vtex's platform allows retailers to connect their multichannel stores to curate an immersive and unified omnichannel experience to consumers. An omnichannel experience is said to improve brand loyalty and drive sales.
Competition on ecommerce has become increasingly fierce. Ad costs have risen to record levels due to competition; it now costs more than $30 to acquire new customers online. Facebook's "cost-per-impression" remains elevated at record levels. An omnichannel experience differentiates retailers' offering. However, many ecommerce newcomers today lack the infrastructure and capability to deliver said user experience. Through Vtex's platform, retailers can easily connect their different channels and stores to look and "feel" the same.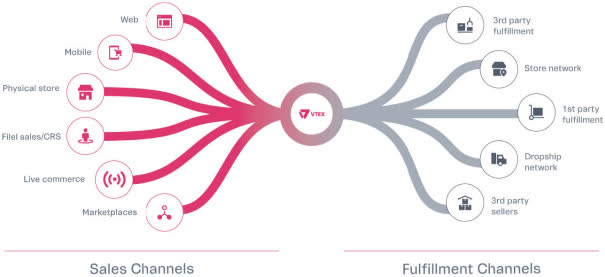 Below are examples of how Vtex's platform allow retailers to build, operate, and connect web, mobile devices, physical brick-and-mortar, telesales, and marketplaces.
Web: Vtex offers a website store framework to customers to build and launch their tailor-made digital stores. Each digital store is customizable with over 100 extensible, pre-built commerce capabilities, apps, and themes offered within Vtex's ecosystem.
Mobile: Vtex offers a mobile component framework that allow customers to create and launch mobile web applications that look and "feel" the same as their web-based store. Vtex's customers can further leverage Vtex's low-code, API-first environment to build bespoke applications that are native and hybrid – cross applicable on both mobile and web-based stores.
Brick-and-Mortar: Vtex offers a brick-and-mortar solution, InStore, for sales representatives. InStore enables sales representatives to sell products physically, while also interacting with all other channels digitally to update product and inventory information. It also connects physical brick-and-mortar stores with all available fulfillment nodes through internet.
Marketplaces: Vtex offers technology that powers enterprise customers to not only operate and sell on marketplaces, but also to launch their own marketplace. Vtex's platform can onboard sellers for customers and synchronize products across different suppliers and partners.
Integrated Backend Solutions:
As mentioned, Vtex's platform, through a set of inhouse and third-party solutions, offers functions that address various potential needs in today's ecommerce. Vtex's customers can integrate these functionalities onto their platform without the need to write any code. Through the composable commerce design, customers can "plug-and-play" third-party applications onto their ecommerce platform, similar to installing an application on a smartphone.
And Vtex offers an additional suite of inhouse solutions that ranges from content management CMS to distributed order management OMS and customer relationship management CRM.
Composable Commerce: Built-In "Plug-and-Play" mechanism
Vtex's platform is powered by the concept of composable commerce, which allows customers to configure composable building blocks of commercial capabilities onto their ecommerce platform.
For example, users can install a payment gateway from PayPal with a click-of-a-button. As demonstrated in the screenshot below, Vtex's customers can install third-party applications, such as Google Tag Manager, simply by clicking "install".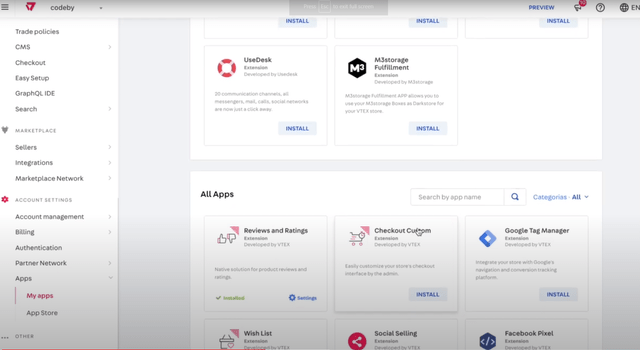 This design allows Vtex's homogenous, cloud-based platform to be highly customizable and be tailored to suit each customer's needs.
Furthermore, developers can develop their own bespoke applications by utilizing the low-code, API-first environment of Vtex's platform. The below screenshot demonstrates the backend developer interface.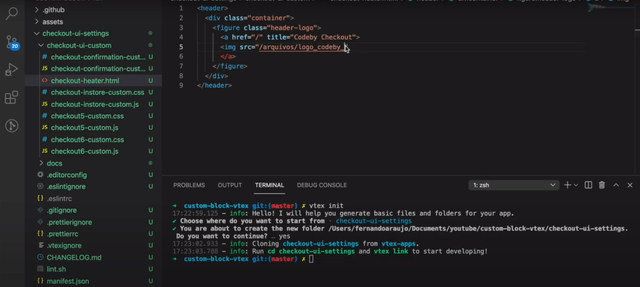 Built-in Business Solutions: CMS, Distributed OMS, and CRM
Content Management CMS: Vtex offers sets of content management solutions that enable customers to create, edit, and publish digital contents on their platforms. These solutions cover functions in product catalogs, pricing, promotion, and site editing. For example, customers can enable promotion functions such as "buy one get one free" or "buy more for less" without the need to write any codes. These functions although simple, often requires substantial efforts to develop and maintain for retailers. Vtex's content management solutions are designed to simplify this process and address customer's ecommerce content needs.
Distributed OMS: Vtex's distributed OMS solution enables customers to develop tailored fulfillment and shipment strategies for today's convenience-driven consumers. These strategies include "buy instore ship from warehouse" and "buy online pick up instore". These flexible fulfillment and shipment options were previously available only with retail giants and marketplaces. Most enterprises, however, lack resources and capacity to synchronize their complex backend of shipment and fulfillment functions across multichannel platforms. Vtex's distributed OMS solutions allow its customers to remain competitive against larger-sized competitors in today's ecommerce landscape.
Customer Relationship Management CRM: Vtex's CRM solution registers consumer orders and all relevant attributes, which allow Vtex's customers to better manage relationships and conversations with their customers.
Vtex's Enterprise-Client Focus & Sticky and Recurring Revenue
Vtex's platform powers over 2,500 online stores in 32 countries for over 2,000 customers. 84% of its annual-recurring revenue comes from active online stores with annual GMV of over $100,000.
One performance metric provided by management is net revenue retention (NRR), which is calculated by dividing subscription revenue in the current period by subscription revenue in the prior year period for the same active customers. Given that Vtex's revenue model is driven by customer's GMV, NRR provides a sound measure for both the growth and retention of Vtex's existing customers. Vtex's NRR, on a FX neutral basis, improved by 171.9% and 115.2% for 2020 and 2019, respectively.
Management stated that most of Vtex's revenue continues to be driven by existing clients. Historically, over 80% of Vtex's revenue is driven by the continued growth and increased adoption in functionality by existing customers.
"Given our subscription-based model, we generate most of our revenues in any given year from existing customers. For the year ended December 31st, 2020, and 2019, we generated 85.6% and 80.3% revenue derived from Vtex platform from customers who have been on our platform for over one year…and for the year ended December 31st, 2020, 47.1% of the revenue derived from Vtex platform was generated from customers who have been on our platform for over three years".
The below screenshot demonstrates Vtex's revenue by customer cohort based on years of onboarding. It shows the stickiness of Vtex's existing customer to the platform. Customers who were onboarded before 2018 contributed double the revenue in 2020 compared to 2017. This suggests that customers are able to generate growth on Vtex's platform, and any impact from departing customers will likely to be offset by growth of its remaining customers.
We see a continuation of this trend for cohort 2018 and cohort 2019. Cohort 2018's contribution doubled in 2019 and doubled again in 2020.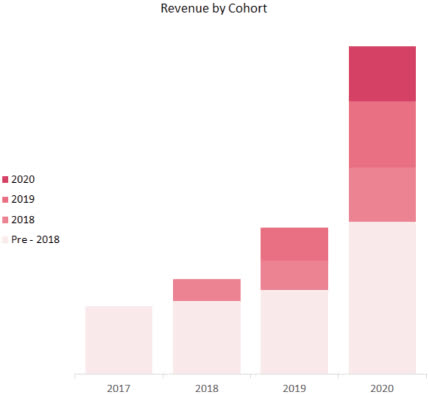 At $8 Share Price, Vtex's Implied Perpetual Growth Rate Is Less Than 5%.
Vtex's share price has been on a six-month decline since its IPO debut in July 2021. Vtex's share price has declined from $22 to $7.58, down over 65% since July. Vtex is currently trading at $7.58, which suggests the company is only trading at less than 10x TTM EV/Sales multiple.
The downward pressure was further exacerbated by the broader market selloff in response to the Federal Reserves' hawkish turn to normalize interest rates. Vtex, at one point, broke through the $7.50 resistance level to $7.43.
However, Vtex seems to have found its bottom and has begun consolidating at the range of $7.50 the past weeks. Net outflow volume for Vtex has also started to increase at an accelerating speed; net outflow volume increased by over $1 million in the span of three days from Jan 11th to Jan 13th, 2022. The violent rebound in volume signals either a close-out on short-selling positions or an increase in interest in dip-buying activities.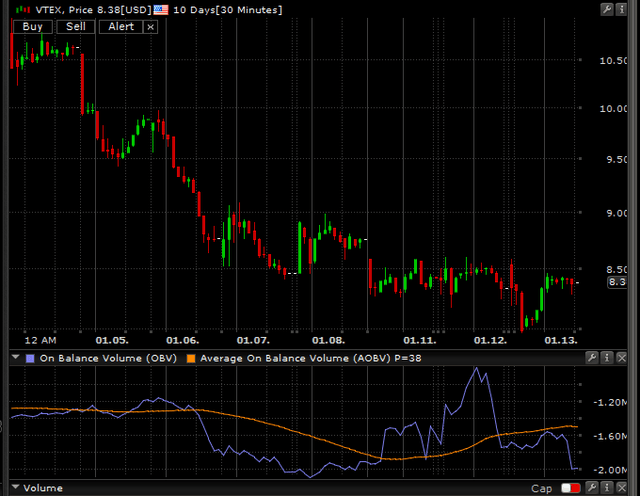 Implied Perpetual Growth Rate of Less than 5%.
There are two methods of calculating the "intrinsic" value of a company from the discounted cash flow model. Analysts can either forecast a company's terminal value by using a terminal value multiple or a perpetual growth rate.
In this exercise, we've decided to work backwards; instead of discounting future cash flows forecasted based on assumptions, we take the company's current enterprise value to derive the market-implied terminal value multiple and market-implied perpetual growth rate.
The WACC used in our analysis is 11.422%, which accounts for the cost of debt, cost of equity, and the company's 90-10, equity to debt capital structure.
This "backward" approach suggests that Vtex's current $1.13 billion enterprise value has an implied perpetual growth rate of 4.18% and an implied terminal EV/Sales multiple of 4x. To put into perspective, at a CAGR of 4.18%, Vtex will generate only $170 million in revenue by year 2026; this is an unreasonable assumption given its competitor's (Shopify) historical runway. And a 4x terminal EV/Sales multiple means Vtex's growth potential is forecasted at only 25% of Shopify's.
We think 4.18% perpetual growth isn't right for Vtex. The company has historically demonstrated consistent, robust topline growth. Vtex's Q1 and Q2 growth in 2021 was 56% and 22% year-over-year, respectively. Despite the company's revenue plateaued in Q3 2021, we believe it was due to seasonality as previously discussed. Management also stated that it was temporary and that GMV had bottomed in Q3 2021.
"Yeah Sterling, GMV growth also should be the bottom for Q3. We are already seeing an acceleration of GMV, as well as we mentioned for revenue. As you probably remember, to set the foundation roughly two-thirds of our revenue comes from a take rate on our customers GMV."
We believe the implied perpetual growth rate of 4.18% isn't justified given the company's historical robust growth capability and the company's positioning within the ecommerce tailwind.
The 4x Terminal EV/Sales Multiple Is Too Low. Moreover, Vtex's implied terminal multiple is only 4x sales. The company's closest competitor, Shopify, is trading at approximately 20x terminal EV/Sales.
While we acknowledge the two companies target different customer groups with different approaches to ecommerce, we think the two companies shouldn't trade a 16x sales multiple spread. Shopify targets SMBs while Vtex focuses on enterprise-sized customers. And Shopify is building a massive vertically integrated ecosystem of ecommerce solutions, while Vtex promotes collaborative commerce with products from third-party vendors. We think Shopify's model offers potentially greater profit margins, while Vtex's model allows the company to remain asset light, thus is less capital intensive and offers higher return on investments.
Furthermore, Vtex and Shopify sales multiple spread should narrow as we believe it will be easier for Vtex to generate topline growth than Shopify. We think it will be easier for Vtex to grow its revenue from $100 million to $200 million than Shopify to grow from $3 billion to $6 billion.
Catalyst: Upcoming Record-Level Q4 Results
We think Vtex's potential announcement of a better-than-expected, record-level Q4 in the upcoming earnings call will act as a catalyst for the company to trade at a fairer multiple. This will bring the company to more investors' attention.
We think Vtex is likely to see above-consensus earnings because:
As mentioned, Q3 revenue plateaued likely due to seasonality. Historically speaking, Q4 is the best quarter of performance due to the holiday seasons.
Vtex doubled their backlog for clients in implementation in Q3. We think those revenue will be recognized as part of Q4 results.
Vtex onboarded multiple blue-chip enterprises, which are poised to bring significant GMV onto the platform.
Vtex announced various strategic partnerships with marketplaces.
After incorporating the above rationale, our model suggests that the company is likely to outperform market expectations. Analysts previously forecasted annual revenue in the range of $121.8 million to $125.89 million for Vtex for 2021, which implies an average of $33.4 million for Q4. We think the Q4 results, however, should print in the range of $39 million to $42 million, approximate 20% above consensus.
Vtex's Q3 2021 topline plateaued in growth was seasonal. Vtex's Q3 2021 revenue was $31.9 million compared to $30.9 million in Q2 2021, which represents a mere 3% quarter-over-quarter growth. But investors should know that Q3 historically is a difficult quarter for Vtex's business. In 2020, Vtex generated only 9% growth in Q3; revenue was $25.3 million in Q2 2020 versus $27.7 million in Q3 2020. Further Vtex recorded historical record of GMV transacted on its platform on Black Friday.
Vtex Doubled Their Backlog in Implementation with New Customers: Despite plateaued sales in Q3 2021, Vtex has made significant achievements in onboarding new customers onto its platform. Vtex's customers in-implementation backlog has doubled compared to prior year. Moreover, Vtex's sales and marketing costs tripled compared to the prior year, mostly driven by sales and marketing commissions; total SG&A increased from $8.6 million Q3 2020 to $29.3 million Q3 2021. Record level commission in Vtex's enterprise focus business model implies robust growth opportunities.
Management, during Q3's press conference, said Vtex has doubled the backlog for new online stores implementation:
"We continue to see strong sales momentum in new stores contract signatures. As a result, year-over-year we've doubled our backlog of new online stores in implementation, which gives us confidence in future growth of the company".
Vtex Onboarded Various Blue-Chip Enterprise Clients in Q3: Vtex onboarded various high-profile, blue-chip enterprises onto its platform that's poised to generate significant revenue. Enterprises that have either onboarded or expanded their partnership with Vtex in Q3 2021 include, but is not limited to: Mazda, Tommy Hilfiger, Levi's, BMW, Xiaomi, etc.
"One highlight win this quarter was Mazda Motor. They chose VTEX to power its commerce digital transformation across 22 countries in Europe. Winning Mazda Europe's vote of confidence is a tremendous honor for all of us at VTEX and another proof that our commerce and marketplace capabilities are a match for the greatest enterprise in the market."

"Some current customers that expanded their operations with us by opening new online stores in new countries during the third quarters were: Tommy Hilfiger in Peru; Levi's in Argentina; BMW in Chile; Xiaomi in Mexico; and Victoria's Secret in Costa Rica. Additionally, our marketplace solution continues to gain traction. In Q3 it has been adopted by AB Inbev, Cobasi, Elefant, Decathlon and many others."
Partnership with Marketplaces: As mentioned, Vtex offers powerful suites of business solutions integrated with marketplace. Vtex has recently established strategic partnerships with Amazon, Facebook, Stripe, Mercado Libre, and McFadyen. It has also recently become a certified integrated partner with Mercado Libre's Brazil platform.
"The certified integration with Mercado Libre in Brazil is a significant milestone in our journey to become the center of a vast network that natively connects every part of the global digital commerce ecosystem. We aim to roll out the certification across the rest of Latin America soon."
Long Term Investment Risks:
Vtex's Ability to Generate Revenue at Reasonable Costs. Vtex's business profitability depends on its ability to generate revenue at a reasonable cost. Vtex's business model targets enterprise clients. And therefore, it is likely that Vtex will generate substantially higher customer acquisition costs compared to its retail-client-focused competitors. Sales commissions and marketing costs are likely to be higher with enterprise audiences. A measurement to gauge on Vtex's efficiency in generating sales is through the LTV/CAC ratio; LTV (life-time-value) measures gross profits of new customers during the latest period while CAC (customer acquisition costs) measures the total sales and marketing expense. LTV/CAC has been consistent at 6x in 2020 and 2019. If the LTV/CAC ratio declines in the future, it would mean that it is now less efficient for Vtex to onboard new customers.
Vtex Needs to Improve Its Operation Efficiency Soon. Vtex has significantly underperformed in net income compared to prior years. Vtex's net income for Q1, Q2, Q3 2021 was -$12 million, -$16.4 million, and -$24.4 million compared to prior year (2020) Q1 -$3.1 million, Q2 $6.1 million, and Q3 $5.5 million. With $320 million in cash and cash equivalent, at current negative cash flow run rate Vtex needs to become operationally efficient within the next 3 years before running out of cash for operations.
Vtex Needs to Maintain a 99.5% Uptime Commitment to Its Customers. Vtex's customer contracts typically provide service commitment of up to 99.5%. If Vtex's platform suffers from extended periods of downtime and is unable to meet those commitments, Vtex is contractually obligated to provide customers with service credits of up to 20% on monthly fees. Because Vtex's platform depends on Amazon's AWS cloud computing system, there is a part of the contractual obligation that is dependent on a third-party's platform's performance, which lies outside of Vtex's control. However, partnering with reputable and reliable cloud hosts like AWS mitigates some of the risks related to credit reimbursement expenses. While cloud computing system outages do happen, working with a reliable host like AWS, which houses some of the best talent in the world, will likely accelerate fixes to ensure related downtimes are nominal and within Vtex's acceptable margin.
https://seekingalpha.com/article/4480355-vtex-significantly-undervalued-ecommerce-opportunity